Your Family Dental Practice in Cardonald, Glasgow
General, Cosmetic, and Restorative Dentistry
Welcome to Our Practice
Envisage Dentistry Tweedsmuir offers a wide range of services including general dentistry, cosmetic dentistry, and facial aesthetics. For more information on specific treatments, please use our search box or contact our practice directly. 
We are currently welcoming new NHS & Private patients. Call us on 0141 882 6825 to arrange an appointment, and our team will be happy to answer any questions you may have.
Patient and team safety is our number one priority. We have plentiful supplies of PPE, with maximum surgery air extraction/ventilation installed.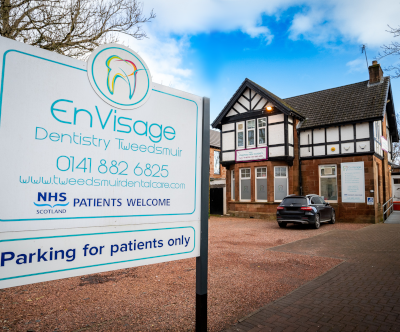 Finance is available with

Tabeo

for private treatments over £250 to help you pay for your treatments at a fixed rate over a period of time.
Frequently Asked Questions
How often should I get a dental check-up?
We recommend that you visit your dentist every six months, even if your dental health is in excellent condition, so you can tackle any issues as quickly as possible and maintain the health of your teeth.
How to practice good oral hygiene at home?
In addition to daily brushing and flossing, take your oral hygiene to the next level by following a few steps to good dental health.
These include:
Use products that contain fluoride.
Limit snacks that are high in sugar.
Eat a balanced diet of fruits and vegetables.
Avoid tobacco in any form.
How can I improve the whiteness of my teeth?
A beautiful smile with clean, white teeth is a huge confidence booster. Most people experience some discoloration of their teeth over the years. You can treat stains caused by coffee, wine, tobacco, and pigmented foods with our Boutique Whitening treatment, or you can achieve a whiter smile with Airflow Polish (no solution included). For internal discoloration, consider Composite Bonding or Veneers to the affected teeth, which provides a more permanent solution. Talk to our practice today to enquire about our services.
I'm the most nervous patient and require sedation for almost anything past a scale and polish really. I can't recommend Tweedsmuir enough. Everyone from the reception staff to the dentists and dental nurses have all been absolutely amazing with me. I could be here for ages writing all about the different ways in which they have impressed me with their compassion, patience, professionalism and friendliness. I'm in my mid 30s and I have never had a dentist surgery who has made me feel comfortable until now. They took me on when I had quite a lot of work to get done as my fear had led me to put things off to the point where I was in a lot of pain, because I was too frightened to let anyone near me. The staff at Tweedsmuir put me at ease (as much as is possible) and were just so understanding about everything. If you are a nervous patient then I don't think there's anywhere better that you could go. Even if you aren't nervous, but just want a good experience with a great dentist. 10/10 Thank you so much Tweedsmuir!
Excellent service 👍
Sarah Anne McKeown
2022-02-23
Had a great experience at Envisage, both myself and my daughter had a check up with Lorna and as a nervous patient I was made to feel very comfortable and put at ease as was my daughter who they spent time with and kept entertained! I was straight back the next day for a hygienist appoint with Theresa who was excellent! Highly recommend!
This practice is run like a Swiss watch. The staff keep you fully updated and issue reminders to attend appointments. Lorna the dentist gives advice and all options open to you. Her work is of the highest quality as is Zenya, the only other dentist I have seen. Having tried various practices in this area, I would recommend you register here as you will not be disappointed. The staff are friendly and extremely helpful. Covid guidance is fully adhered to. This includes refusal to accept or grant access to potential patients who refuse to wear face masks or to use hand sanitisers.
Amazing dentistry. Their work is absolutely perfect however the thing that makes them stand out is how friendly and helpful the staff are. Could not recommend them highly enough!
Stephen Forsyth
2021-09-14
I've been with EnVisage Tweedsmuir for a number of years and it's such an amazing dental practice with the friendliest and most helpful staff you could ask for! I would definitely recommend to join EnVisage Dentistry Tweedsmuir if you're looking for a new practice 🙂
Dr lorna mcintosh took me through the invisalin treatment. What can I say, she is a miracle worker and I'm so happy with the results. My teeth are now straight and the change has made a huge difference to me. She was kind, helpful, attentive and it was pain free. Does not get better than that. Audrey Sheridan
Absolutely fantastic service! l have been coming here for years, always put at ease, so friendly and as a nervous patient my dentist lorna is second to none, as is everyone else, would not go anywhere else xx
graham dinwoodie
2021-08-31
Pain free dentistry really friendly staff overall a fantastic dentists