Looking to brighten your smile? Remove stains? Or overall, just want whiter teeth? Then Teeth Whitening is the method for you.
Teeth Whitening involves bleaching your existing teeth safely to lift the colour and make them lighter.
Teeth Whitening is a quick process to achieving long-term results. We will welcome you to our practice for your FREE consultation, where we will talk you through the process and ensure you are dentally fit to proceed. You may start the process that day depending on the fitting of your molds for the whitening trays, and following this appointment, you will be given your own Boutique Whitening Kit.
Teeth Whitening will typically take between 1-3 appointments, including your consult, depending on the time taken, and will take around two weeks to complete the process depending on the use and the reaching your desired shade.
Our dentist will take an impression of your teeth to create a whitening tray, similar to a mouthguard but significantly thinner, and you will use this with a whitening solution. This is then used at home, putting you in control of your shade change. Results are normally seen after 2 weeks.
Teeth Whitening can last from a few months to 3 years and may be affected by multiple factors such as; if you smoke, drink red wine or tea, and coffee.
2 appointments

Includes teeth whitening solution and trays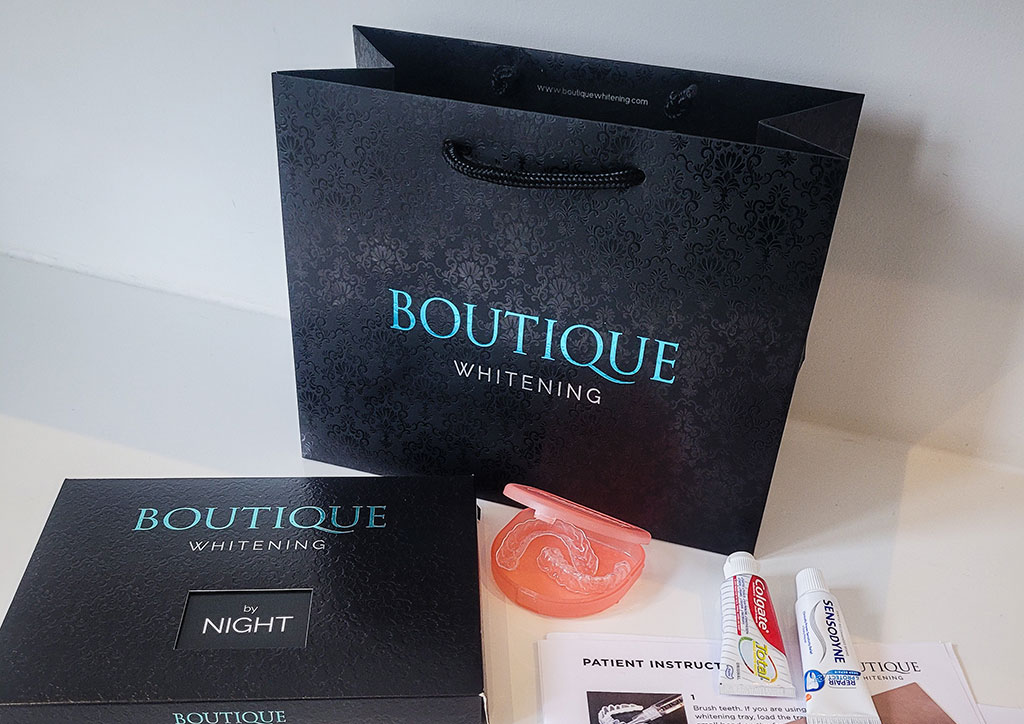 To book your FREE cosmetic consultation or find out more information please call our practice on       0141 882 6825
Please only have Teeth Whitening carried out by a dentist or a regulated professional such as a Hygienist or Dental Therapist on the prescription of a dentist.
If you are considering Composite Bonding you may want to consider teeth whitening beforehand as you won't be able to alter your bonds after they are done.
If you have crowns, veneers, fillings or dentures – please consult with your dentist before proceeding.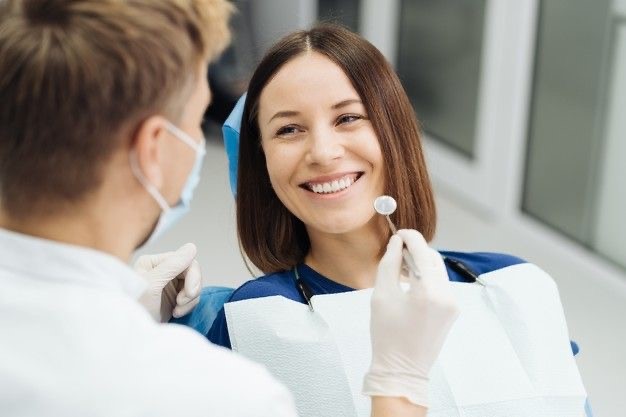 Please note that Teeth Whitening is only offered as a private treatment
Frequently Asked Questions
Does Teeth Whitening increase sensitivity?
The ingredients used in Teeth Whitening products can mean the soft dentin under the enamel of the tooth is temporarily exposed. This exposure means that the product can access the tooth nerve endings, which may cause sensitivity for some people.
However, this should only be temporary and return back to normal within a couple of days if a highly rated whitening product. Unregulated tooth whitening products might cause chemical burns on teeth and gums as well as prolonged sensitivity. Always consult a dentist before using any tooth whitening products to ensure the safest ingredients are used.
How long will my teeth stay white after Teeth Whitening?
This will depend on several factors, such as the level of care you take with your teeth. On average, your teeth should remain white from anywhere between 6 to 24 months. If you wish to extend the length of time your teeth are white, we recommended you avoid smoking and drinking coffee or red wine. Please talk to our dentist or hygienist about how you can maintain a whiter smile for longer.
Will Teeth Whitening work on my teeth?
The full effect of Teeth Whitening depends completely on the original state of your teeth. Teeth Whitening will certainly lighten your existing tooth colour, but you might not reach your desired shade with one session. If your teeth are particularly stained, it might take several. Teeth Whitening will only work on natural teeth. You can't lighten the appearance of dentures, crowns, or veneers. If you wish to whiten your existing teeth but have a crown or veneer please consult with your dentist before proceeding.